Open* tools for collective organizing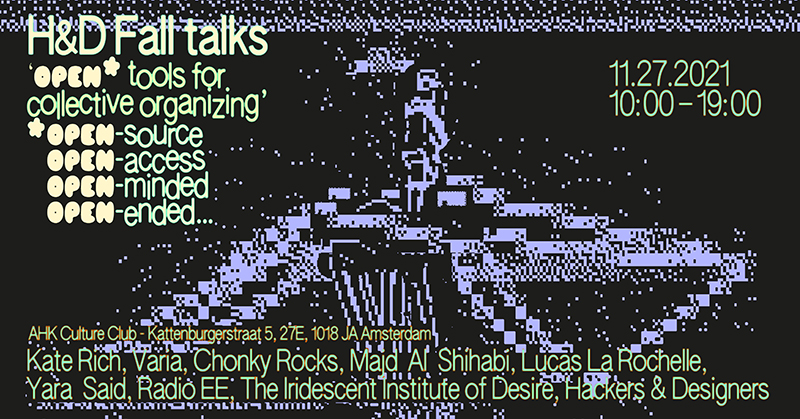 This event was broadcasted by Radio EE! Find the transcription of the talks in this etherpad https://etherpad.hackersanddesigners.nl/p/hd-open You could participate at a distance using the chat! We collected questions there too :)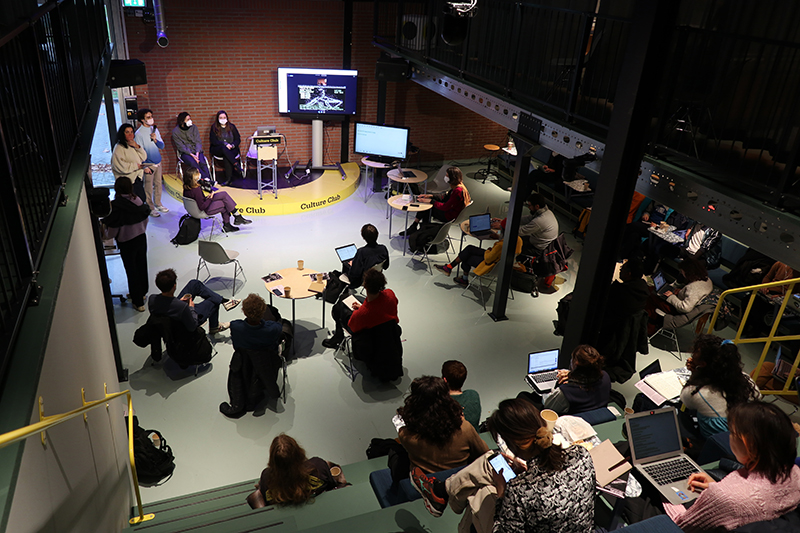 By connecting to other self-organized communities we wanted to exchange insights on the peculiarities of different tool ecologies, their situatedness, their limits and possibilities. What are the creative and critical potentials of the tools that allow us to organize ourselves as collectives? What are context-specific, social-technical codes and practices involved in collective organizing? What are ways to challenge ourselves and our tools in terms of durability, accessibility, openness, and creative output?
We invited creative practitioners, designers, artists, coders, system administrators, and disobedient users to join us in reflecting and reimagining tool-relationships evolving from community organizing practices.

(*) open-source, open-access, open-minded, open-ended...
(**) such as document writing, content-management, building and maintaining infrastructures, messaging, collaborative spreadsheet making, streaming and broadcasting...
Bios
Kate Rich is an artist, trader and feral economist, ordinarily living in Bristol UK. Since 2003 she has run Feral Trade, a long-range economic experiment and underground freight network, utilising the spare baggage space of the art world to transport groceries. Kate is volunteer finance manager at Bristol's artist-run Cube Microplex, co-manufacturer of Cube-Cola (an open source drink), satellite member of the FoAM network of transdisciplinary labs, system administrator for the Irational.org art-server collective, and a land-based member of the Sail Cargo Alliance. She is also co-convenor of RADMIN, a slowly mutating series of events that consider administration as not just a stream of hostile demands, but also a place for wild experiments, new solidarities and meaningful work. Kate is currently testing the curriculum for the Feral MBA, a radically different kind of training course in business for artists and others.
Kate will present her work through a couple of dis/organising devices. One is the Feral Trade Courier database, a hand-coded interface for trading goods over social networks and outside expected systems. The other is the Feral Budget generator, an experimental format for unbalancing accounts.
varia (Gouwstraat 3, Rotterdam) is a space for developing collective approaches to everyday technology. As varia members, we maintain and facilitate a collective infrastructure from which we generate questions, opinions, modifications, help and action. We work with free software, organise events and collaborate in different constellations. varia figures things out as they go, tries to keep notes, is multilingual and can be contacted at info[@]varia.zone.
Varia is a member-run collective established around a shared interest in everyday technologies and their impact on society. Varia aims to create space for engaging with free culture, free software, collective infrastructures, DIY attitudes, various forms of togetherness and learning situations. In this talk, we will present several tools, both technical and social, that help us communicate, organise, archive and distribute our collective activities.
Hoodowr is a distributed network architect who has worked for major japanese corporations building prototypes of the internet of the future. Since 2020 he has worked on a distributed, ephemeral forum called Moderator that is in a working prototype phase now. You can test the current clearnet version of moderator at: www.omasome.fi
Walkaround moderator, ideas why it became to be and who could benefit from it. Moderator is very low spec so some interesting infomation on how to do distributed on really old phones and computers.
Radio EE is an online, nomadic, multilingual radio station. They host 24-hr broadcast events on mobility and movement. They take up topics of transportation, migration, and climate transformation, transmitting local voices, music and sound to create an audio portrait of a place in time. Radio EE's events are often hosted while on the move--from trucks, cars, boats, and bikes. Each broadcast connects an ever-growing network of global listeners, and is co-broadcast with local terrestrial and/or online stations. radioee.net is co-produced by Agustina Woodgate, Stephanie Sherman and Hernan Woodgate.
H&D will launch their new publication 'Network Imaginaries', reflecting on and reimagining distributed practices. The contributors span a wide range of practices and reflect about network technologies in experimental and hands-on ways. They push the boundaries of existing technology and programming platforms (webware, hardware, software), online/offline networks, high and low tech (internet, IPFS, darknet, peer2peer, blockchain, bot networks, radio), and user experience — in a practical manner and while addressing the ethical implications of the proposed technologies and processes. This publication was designed with ChattyPub, a self-made publishing tool leveraging an open source chat interface (Zulip) to apply css styles to the contributions. Anja and Juliette will present the book and ChattyPub, exploring how a process of co-designing a publication unfolds in a chat environment, specifically when several people are designing and interfering at the same time. Through workshops H&D opens up the process of making this tool, and explores together with participants its possibilities and limitations.
The Iridescent Institute of Desire is an artist-run research network, focused on decomposing the notion of stable structures and (re)imagine collaboration from the perspective of an eternal event of 'desiring'. It acknowledges change as part of a process and wants to propose shapeshifting viscoelastic trans*formative structure(s). The IID is particularly interested in looking into alternative ways of being, thriving and shimmering, and to simultaneously facilitate spaces that socialise desire and conflict, share knowledge and develop kinship. Currently, IID is developing transformative methodologies of care and irisation based on somatic listening, supported softness and pleasure acting, away from patriarchal modes of socialization.
The Iridescent Institute of Desire understands wellbeing as int(ra)-dependent and facilitates creative and critical spaces to activate healing and regenerative processes, aligned with social justice. Its intention is to actively participate in disrupting, de-binarising, changing, trans*forming, recycling, composting, (de)conditioning and decolonizing western capitalist society, by facilitating movements to destabilise the dominant and oppressive system(s) in place.
~To desire is to be in 'touch' and touch the 'other': to trouble the self.~
Collective Attunement: The Iridescent Institute of Desire's gesture is a multi-sensory guided experience. A shared somatic listening that releases tension accumulated from the encounter with the current modes of sociality, invoking a sensibility towards the micro-dimension of desire.
Majd Al Shihabi is a technologist and urban planner based in Tkaronto. His work is concerned with archival practices, and the political, ethical, and social considerations that are involved at all stages of the archival process. Majd is also a free culture advocate. His most recent project is Palestine Open Maps. He is currently a PhD student at the University of Toronto.
"All models are wrong, but some of them are useful" is a common refrain by anyone working with data analysis. If maps are two dimensional models of the multilayered world, how are they wrong? And how are they useful? In this brief talk, I will respond to those two questions through the case study of a set of British colonial maps of Palestine, and of the more contemporary OpenStreetMap.
Lucas LaRochelle is a designer and researcher whose work is concerned with queer and trans digital cultures, community-based archiving, and co-creative media. They are the founder of Queering The Map, a community generated counter-mapping project for digitally archiving LGBTQ2IA+ experience in relation to physical space.
They have lectured, facilitated, and exhibited internationally, recently at the Guggenheim Museum (USA), Ars Electronica (Austria), Interaccess (Canada), Digital Writer's Festival (Australia), MUTEK (Canada), LINZ FMR (Austria), Somerset House (UK), Onomatopee Projects (Netherlands), OTHERWISE Festival (Switzerland), Ada X (Canada), and SBC Gallery (Canada). They have presented research at The Bartlett School of Architecture, University of Puerto Rico Rio Piedras School of Architecture, University of Cambridge and Stanford University, amongst other academic institutions. Their work and writing has been published in Futuress, Immerse News, Queer Sites in Global Contexts, Atlas Menor #1, QUEER.ARCHIVE.WORK #3, Diagrams of Power, IWAKAN, ROM, Accent, Echelles, and Perfect Strangers, amongst other books and publications.
Yara Said (1991), 'stressing the 'i' in "Said" to sound like a letter explicit to one region of the world, the Middle east, is a multidisciplinary artist currently based in Amsterdam. Yara translates and reinterprets her surrounding environment, departing from the direct expression of painting and her passion for making. Yara's practice unfolds in different outcomes yet always in relation to sound. By navigating between sonic flows the artist addresses daily encounters, opening a political space of imagination upon identity politics and questioning aesthetics of representation. In her work, both as an artist and as an organizer, she always finds herself drawn to the act of hospitality, not only in the literal meaning but also conceptually. Currently, Yara is interested in documenting noise within urban structures and researching frequencies that stimulate emotions and propose questions of political and social nature. Furthermore, Said is committed to understanding how certain sonic acts can be used both as terror and liberation mechanisms and how one sound can produce such contrasting dichotomy in global narratives. Yara offers a femme gaze on a topic that is saturated with imagery of blood, cries, and turmoil hoping to open an honest and caring space of contemplation and understanding of the current political and social global injustice.
For the artist, noise is connected to otherness (different languages, cultural behaviors, ethnicities, etc) and her inspiration is drawn from industrial noises, the breath of the city, shouts, hugs, death, (non)linear disrupted narratives, and emotion in relation to trauma and grief.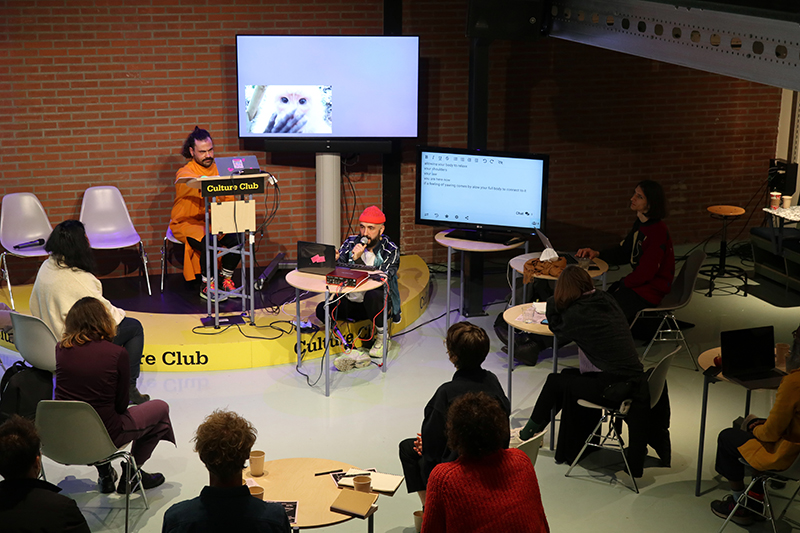 Timetable
Block 1: 10:30—12:00 File Sharing / p2p / alternative distribution methods / economies?

Block 2 12:15—13:45 collaborative tools
Radio EE (live)
Performance by The Iridescent Institute of Desire for Network Imaginaries (live)
Lunch Break 13:45—15:00

Block 3 15:00-16:30 mapping, (dis)orientation, and storytelling

Block 4 17:00—19:00 4 short workshops to explore the tools introduced before! (sign up during the day, bring your computer :))
workshop by varia: putting into practice some of the tools that will be mentioned during their talk!
workshop by Lucas LaRochelle: exploring fabulation through the experience of Queering the Map and inspired by the worlds opened by QT.bot.
workshop by moderator: something with onboarding people, learning how to share conversations to people on different forms of social media.
workshop by H&D: playing around with ChattyPub through a series of prompt to experience co-designing and produce a quick zine reflecting on the symposium altogether!
open end - drinks!
Practical Information
Tickets were 20€ for pro, 10€ for students (including vegan lunch)
Limited capacity (40 participants)
AHK Culture Club: Kattenburgerstraat 5, 27E, 1018 JA Amsterdam
AHK Culture Club is wheelchair accessible. For anyone who is not able to participate live, there will be a live broadcast available hosted by https://radioee.net/ Radio EE]. please contact juliette@hackersanddesigners.nl if you require any additional support to enable your participation.

Graphic Design by Juliette Lépineau