Making Matters Symposium 2019
Making Matters Symposium 2019
Name
Making Matters Symposium 2019
Location
West Den Haag
Date
2019/05/09-2019/05/10
Time
PeopleOrganisations
Ramon Amaro, Constant (Femke Snelting), ginger coons, Florian Cramer, Dyne.org, Anja Groten, Thalia Hoffman, Frans-Willem Korsten, Pia Louwerens, Shailoh Phillips, Dani Ploeger, Janneke Wesseling, Dianaband, Hackers & Designers
Type
Web
Yes
Print
No
Bridging Art, Design and Technology through Critical Making
The partners and researchers of the Critical Making consortium are excited to announce the two-day symposium Making Matters. The symposium takes place from 9-10th of May at West Den Haag, Lange Voorhout 102 in The Hague.
Making Matters invites makers, artists, students, activists, theorists, designers, humans and non-humans to think about making practices and their critical potential. By offering opportunity for exchange across disciplines, the symposium attempts to shift the discourse of making from maker culture to a wider set of creative practices, thereby proposing alternatives to the solutionism of contemporary techno-creative industries.
The project 'Bridging Art, Design and Technology through Critical Making' investigates how Critical Making — a notion originally developed in the context of social research, design and technology — can be adopted and developed in relation to artistic research and (post)critical theory.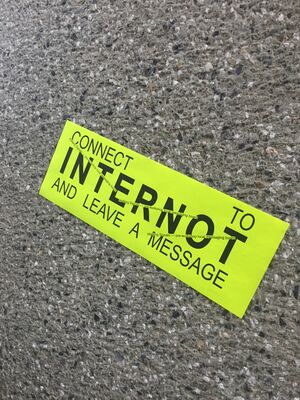 Program
Thursday 9 May 2019
9.30 Welcome (coffee & tea)
10.00 Introduction Critical Making Consortium: Klaas Kuitenbrouwer (Het Nieuwe Instituut), Janneke Wesseling, Lucas Evers (Waag)
10.30 Presentation: Florian Cramer
11.15 Coffee break
11.30 Presentations: Dyne.org, Constant (Femke Snelting) followed by a discussion
12.45 Lunch break
13.45 Presentations: Shailoh Phillips, Pia Louwerens
14.45 Presentation: Dani Ploeger
15.45 Coffee break
16.00 Public discussion: 'Challenges and Consequences of Critical Making Now'
17.00 Drinks
Friday 10 May 2019
9.30 Welcome (coffee & tea)
10.00 Introduction on Critical Making: Lucas Evers (Waag), Klaas Kuitenbrouwer (Het Nieuwe Instituut), Marie-José Sondeijker (West)
10.30 Presentations: Frans-Willem Korsten & ginger coons
11.30 Coffee break
11.45 Presentation: Ramon Amaro
12.15 Presentation: Anja Groten
12.45 Lunch break
13.45 Book presentation: Letizia Chiappini, Loes Bogers: The Critical Making Reader
14.00 Workshops:
   Hackers & Designers with dianaband
   Ramon Amaro
   Thalia Hoffman
   Pia Louwerens

16.00 Public discussion & wrap up
17.00 Drinks
speakers include
Ramon Amaro, Constant (Femke Snelting), ginger coons, Florian Cramer, Dyne.org, Anja Groten, Thalia Hoffman, Frans-Willem Korsten, Pia Louwerens, Shailoh Phillips, Dani Ploeger, Janneke Wesseling

Partners
PhDArts / ACPA Willem de Kooning Academy Waag West Het Nieuwe Instituut