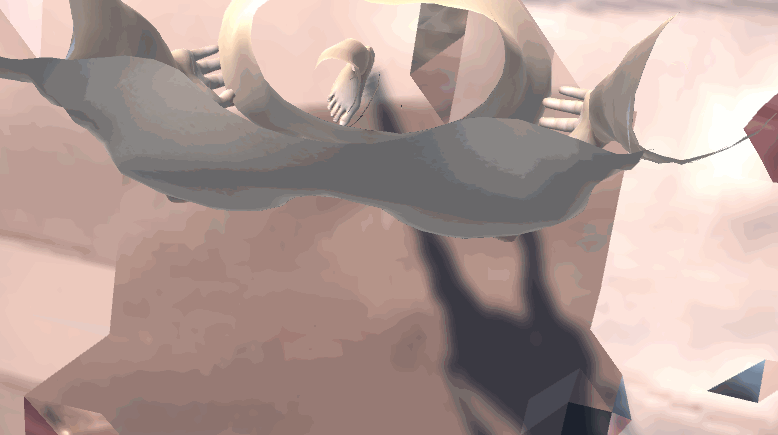 Workshop by Carina Namih and Simone Niquille during HDSA2016
Introduction
During 2008's New York Fashion Week online DNA testing service 23andMe hosted a celebrity clad Spit Party collecting client's DNA samples in order to answer their genomic questions. Hailed as the blueprint of life, the human genome is presented as bodies metadata containing our truth and future. Questions posed to the DNA oracle range as far and wide as 'Will my child have freckles?, Who are my parents?, Will she commit a criminal act?, Why do I like bananas?'. Unlike it is the case with 23andMe, the questions are not always asked by the person submitting their DNA. Applied in forensic research your DNA might appear in places your body is not, building narratives contrary to personal statements. In the 2008 investigation now known as the Phantom of Heilbronn, the German police erroneously searched for a female suspect connected to 30 different crimes by DNA residue. Ultimately it was revealed that the suspects DNA in fact belonged to a woman working at the cotton swab factory manufacturing the equipment used to collect DNA at crime scenes. She was never in those places, but her DNA was.
The all-knowing power bestowed in DNA data and flesh turned into numbers has to be treated with caution, especially when yielded above corporeal bodies. Data (mis)use cases point as precursors to how other bodily data might be used to extrude knowledge and prediction of our bodies and our behaviour remotely.


During this 3 day workshop participants met their own data body and explore protocols for communal DNA data hosting to scramble individual identity.


Day 1 - Secret Data Santa
The day started off with an introduction of Simone and Carina of their research interests giving context for the three day workshop. The proposed approach was to explore, through experience and making, the internet of bodies - looking at how our flesh is translated into numbers and how the self is represented online.


For the opening workshop, the participants put their names or an online username of their choosing in a hat and drew out another participants name. They each researched the person they drew out for approximately two hours online, gathering what personal information they could dig up and observing how the person presents themselves online. Based on the collected information and observations about this stranger, they each wrote a short character profile "A day in the life of Person X" about their target, often in the first person.


The results were at times awkward and strange. Some found their target's home address, their annual salary or 8 year old abandoned online profiles frozen in time. People with more common names ended up with a communal identity, mixing their persona with that of similarly named persons across the internet.


The short stories were printed and placed in a circle around the room. The participants were asked to find the story that they suspected was about them and to stand in front of it. Each participant read out the story about themselves, discussing which bits they recognised and which parts seemed inaccurate or disturbing. The author of the story then revealed themselves and described their experience of researching the target. This group reading and the resulting discussions were revealing and, at times, uncomfortable, while also being entertaining and fun for all the participants.


Short stories:
//
I wake up fairly early this morning and there's a man wondering around at the back of my house with a shopping trolley scavenging, and a woman in the front garden eating the plants. I get out of bed, lock the door and put on my google glass, which I'll need to spot wild moose later this afternoon. It has begun to snow.


Arno calls.


"We are doing fine", he says. I'm relieved to hear this as Phillip's family history has been both everyday and tragic. Google glass ends the call as it's time for breakfast: bloody mary with an octopus.

As I'm getting ready to leave I open up my de Slimme trading app, wondering absent-mindedly why men fall in love, to find that I've earned $54,000 this year. In celebration I purchase an apple watch and also invest some back into the best UK fixed rate bonds.

I'd hoped I'd have the time to make some pretty things and play with electronics but I'm running a little late so instead I head out of the house and begin yoking my dogs to their sled.

The snow's deep today and I speed through the dense forests of downtown on my dog sled. It would be nice if it could brighten up a bit, I need some beach love.

On route to moose-spotting I stop at a street vendor for a $10 piercing and notice across the street that there's a shiny and obscure 🤘sitting on top of a chicken wire fence. I'm drawn to look closer, but the dogs are getting restless so I jump back on the sled and continue on into downtown. I'm somewhat distracted by thoughts of the Weird Al Yankovic gig last night. Plus my Google Glass keeps flashing my overall rating (3.5) and difficulty level (2.7) into my vision. 

The stream of information is beginning to obscure my view of the path and as I skate through the snow I fail to notice an ice-fishing hole in the middle of the road. The dogs manage to jump it, but my sled plunges straight into it.

As I wait to reach the bottom I browse over 45,770,000 images from the world's largest community in stock photos and wonder how I can find time for moose spotting later in the week.

//
Mr. M wakes up in his white cube bedroom, which temporarily also functions as a gallery. His embodied Self has a pounding headache, after the liters of fine whiskey he drank last night with his friend Joe. He prepares himself a nice 1000 calories breakfast with lots and lots of meat. Makes him feel like a proper dinosaur. He wants to take sit down in the chair that he always wishes goodnight, but remembers that he just sold his desk and all that remains is a tiny plant. They have breakfast together.

After getting dressed and spending more than 30 minutes looking for his glasses, he gets on his bike AND ALMOST DIES. AGAIN. He wishes that all bus drivers and butterflies die sad and alone. If only people knew that he was actually a dog in this dystopian dark landscape… Then he would get at his work in an unique city centre hub much faster. His cat would also like that. 

During the day, he lives the  life of a truly cool, popular and promising young artist. But when the sun sets, he slips into his other persona of a fanatic greasy minecraft player who is trying to become a professional gamer, and sometimes he gets on a plane to shoplift in the sleepy town of Somerville, Massachusetts.

//
Born in Germany, young nnn loved telling stories. She dreamed about becoming a journalist and had worked hard it: she wrote for school magazine and co-developed a youth magazine prototype for the publishing house 'Der Spiegel'. 

However, after studying History & Political Science, she decided to work for production companies. A couple of years later, she joined the 'New Media' class under Professor Joachim Sauter & Professor Jussi Angesleva at Berlin University of Arts. During her study, she created a series of very poetic interactive installations aimed to critically reflect technology and society. To her, these machines are not demos, but poems. She also worked as an assistant to Professor Kora Kimpel to help other students with their project. According to her Couchsurfing website, the sound installation of Susan Philipsz at the documenta13 was something she was, or maybe still is, very proud of.

She calls herself 'sometimes a workaholic, sometimes lazy', but 'always looking for new experiences' on Couchsurfing. After living in Germany, Poland and Russia and traveling extensively in Europe, she embarked on a journey to Pittsburg, PA, USA. Pittsburg, home of Carnegie Mellon University, is one of the most important hubs of interaction design research in the world. She interned as a lab associate at Disney Research Pittsburgh, where she focus on interactive tactile experiences, which was highly rated and has drew much media attention.

She is hardworking and down-to-earth. She's published a series of papers in interaction design. She keeps a low-profile online, either limiting the content strictly to work or avoiding posting at all. To her family and friends, she is easygoing and full of laughter. She enjoys art, music, theatre, nature (particularly mountains). She occasionally hosts Couchsurfers, who speak positively of her. She is fluent in Germany, and has been learning English and Russian. Currently she's living in Berlin with her dog Polly.

//
Being yourself – a subject.
The very short identifier first brought resulted in a male French rapper which looks pretty aggressive. Since there is no-one in this summer school that seems to be aggressive in one way or another the search had to go on. A runner up for this person was a very girly girl that has almost the same name as the person participating the summer school. 

Eventually the internet came across a person that seemed to fit the profile of one of the summer school participants. There is not much to be found of this person apart from two social media profiles that have mismatched names. By the communities this person has joined, the books and music this person likes this person seems rather interested in how frames of gender and race are being constructed in our society. This person is born in the former communist Eastern part of Europe but has found education in a nearby, but more western country of Europe. The study involved the way of men, particularly how they behave either consciously and unconsciously in groups and how they influence each other. After this person graduated a second study came across the path. This time in the Fine Arts in a formerly divided part of Europe.  

//
My mom wakes me up in the morning, and I spend an hour live streaming video games before I go to school. Then I spend my morning making funny videos about firemen getting delayed by livestock and not putting out fires. After that, I have a few beers with lunch and fix people's sound. In the afternoon, I tell people what to do and try not to hit actors in the head with boom poles.

After I get done with school, I play pranks on my friends and parents for my YouTube channel. I go to football practice at my club because my dream is to become a professional footballer for Argentina.

I have a large collection of hats that I give away on Instagram for likes. In my spare time, I like to tell stories about other people and sit around tables chatting with bearded guys. I especially love to take photos of white kittens and pit bull puppies. I have a genius IQ and am the proud father of a skeleton. I love the beach and wear short shorts.

In the evening, I take shirtless selfies to show off my six-pack abs and obsess about the teletubbies. My underage girlfriend likes to watch and encourage me. I love my mother and hate playing games. Please don't send me Facebook game requests.

For dinner, I eat giant burgers and tiny hot dogs cooked on a rotisserie and drink tiny beer. Before I go to bed, I take photos of long-haired men listening to headphones while lying on the floor. I look great in a button-down shirt and love bears. Please don't steal my grandmother's accordion. My mother tells me it's time for bed, but I'd rather do tricks on my hoverboard.

//
He wakes up every day in the area which is 13 metres above the sea level.  He starts his day with his headphones on, having his own private disco party. Probably listening to 10 hours of Lamp chop song on youtube ( he doesn't have an apple music account). 

Then he dances his way to his favourite Fat dog restaurant . During the day, he is working with the javascript or objective-c to build an app. Or maybe Python? He is feeling good about not being a hipster. Because since he start write with the Python, it was already cool. 

Sometimes he get distracted from work when he is daydreaming about the long holiday in Thailand or good times back in school when he brought down the campus server or social networking sites. When the sun goes down, it is the time for the good beer and a taco with friends.  Before he falls asleep he is thinking about the terrace rabbit: "Will it appear again?" 

//
A day in the life of Venus starts with a photo,
typically abroad, and surrounded by art, 
there's no fear about her,
she's always off to the right start.


Her technical skills, numerous,
and her character, bold.
She realised both recently, when praised,
for having "the typing skills of a 14-year old".


Her savviness in the web is vast,
but don't be fooled by her tricks,
under the online surface you'll find
a deep love for global politics!


This student of data and design,
her finger, always on the pulse,
displaying in the Tate, giving TED talks,
and debating with Laurel Schwulst.


From New York, to Turkey, to London,
she hails to no single flag.
She is, for now and forever,
👍👍 The Venus with K-pop swag 👍👍

//
It's early in the morning – I can see my breath in the air. It's pretty cold. Couple minutes later I am standing in front of my yellow "house on wheels", my VW T4: I exhale deeply. Looking at the lake somewhere in Sweden I feel connected to the earth, to nature, to life. The last months were busy: traveling, teaching and working a lot for my projects. These silent moments - alone in the wilderness - make me happy and I literally feel how I can recharge my batteries.  Fog is flotation over the the water surface and the sun which is rising up in this moment, makes the scenery to a mystic experience. This is a great picture - I am immediately awake and my pulse goes up. I am excited. Where is my camera? In the camper I am going through my boxes to look for my Lomo. I love this old analog Russian camera, the "klick" when you expose the film is like a release - I captured the moment! And finally when you hold the prints in your hands, sometimes weeks after you shot the picture, you re-experience the moment of the shooting. It's a slow process, but maybe this is exactly what we need in these days. Time is running and we are overflowed by information. 
"Klick" - I feel pleased, it's a good start into the day. Sitting in the entrance of camper, my legs dangle in the air and touch sometimes the wet gras. I take a sip of my hot tea, it would be great to do once a installation here. Maybe combing nature with video projection - to cross the patterns of nature with artificial light. I should stop thinking about projects -  it's my weekend off. I have to smile - life is great and I am so grateful that I can live my passion. 

It's 6 o'clock. Again I have been awake for a while already. Is it the notorious fear of missing out? Do I get to bed to early? Do I need to pee? To drink? Is it because it's to warm? Is it because it's to hot? Is it the rumoring city? Something seems to pull me out … not into the burning city but into the kitchen. The premise of a hot cup of tea – processing morning rituals. The premise of her sleepy face in the morning? 

2 hours later. I browse and I scroll. The browser–an instrument and extension of the 1 square meter table around me. Brother calls. Karin texts. I scroll, click and swipe. Researching human immateriality, – sound, voice, energy. 

What would it sound like if I'd swing those strings, tumble those surfaces? 

1
2
3
4
5
6 
times 2

8pm

Flickering images, TV screen, mesmerizing my different online persona's … modest comfort of warm herbal of tastes of whiskey puts me to sleep.

//
je kopiëren Beantwoorden to the by de var a en in of heeft and is niet account · Geverifieerd deze — te een geretweet Licensed Emie om account? an as Powered » Geblokkeerd Select + met Contact Deblokkeren Alternative zijn from this so not found locatie toe Opge page Projects ensure Ontvolgen Volgen Een link with Volg dsframework_vars al Blog when Portfolio inset code Bold Dezeen momenteeogd dat emilyb Jon Voeg timeline dit iets first tot ons weergeven "ServerJS border these that zeker kan most but Amsterdam normallng background toevoegen Italic Lijsten highlighting inhoud into Nu Weet back Probeer pagina er users It's drag Bahasa Canada all m Tech updates Reliance entire bevat die button suprised Twinings Inc Gizmodo Terug Paul Rarely aanzetten says fout altijd mogelijkgeen toegang active antwoorden box maken Iedereen items Ginger Naar opgetreden easyjet Webfont via Group Fierlan Kopieer Magyar Coen ook Brazilië train Mass Time landen must rights foto's work Lies Video can following stream alleen high বাংলা You 
//
She wakes up a bit tired but not unlike the days before. Goes back to the big screen and checks the graph. Which is not a graph but a visual representation of sound waves—maybe. Or sleeping patterns maybe.

She has a quick breakfast and start to move images around the screen. In the afternoon she's going to do another thing about duration and human bodies, with a friend this time. Instead of letting a computer recording a specific set of activities, she takes over that task herself. It is less self-referential that it might sound.

There is a strong sense of commitment to repetition as a form of discovery.

In the same way a seismographer traces lines based on a certain modulation of intensity coming from a source of energy, drawing lines on a piece of paper can be the same. Arm and wrist and hand gradually gave up on listening to the processed thoughts of the brain and increasingly adopt bodily patterns to proceed.

She raises her head to give a quick look at her friend in front of her, while keeping drawing with a pencil. Her friend does the same.

After that, she goes for an ice-cream before dinner time. She takes a walk to make some time passing (I wonder if with all this durational exercises she still thinks in terms of minutes, or on a more bodily level of "some time", "a long time", "a short time", etc) and reflects a bit on the changes her bio-rhythm went through in the last period.

After that, there's cheese and wine and friends, she comes and sit down and chat about temporarily moving abroad again in the summer, after the short period she spent overseas last time.

//
Mr. X

Monday morning the 25th of July 2016, started as a completely off day for Mr. X. The chain reaction of all the events that followed were so unusual that he started to think he was being jinxed. What he didn't know until that point was that his "gut feeling" was absolutely coming true.


Mr X was trained as an visual artist and had been living in Amsterdam since his master study at the Sandbergen Institute. I guess you can say he was a freelancer making his money on project basis and next to that, sometimes he was asked to give lectures and teach classes. As a student he started collaborating with other artists and still likes to collaborate. One of the biggest collaborations he was proud of was "the Hackers & Designers summer school".  Everybody has a mantra in live. His mantra is: to use art to communicate his message to the rest of the world. Yes a big mantra and yes you can say he was an idealist. Which you can also find back on his website if you Google all his past projects.


Just like every year in the month July the Dutch government decides to increase the rent of rented houses. The landlords send you a letter like a month before to tell you the amount.  It was already difficult for Mr. X to get by every month, so he started thinking about how he could catch a bigger fish so to say. Or he needed to start spending his savings. That same evening as he got the letter of his landlord, he was discussing the theme with his collaborators for of the next Hackers and Designers summer school. They needed a theme, which was fitting and relevant.  He couldn't recall who came up with the theme: At Work. If you are smart why are you so poor. But it felt completely fitting. And as a side affect he hoped he would finds some solutions during the summer school to be able to catch that big fish.


To get back to all the events that happened on the 25th of July, 16. He overslept; as a result there was no time for breakfast. When he looked in the mirror he started thinking about his self-portraits project. And how empty he looked and would fit in his own series. He felt still tired and couldn't concentrate. The day didn't go at all as he wanted. The morning program didn't give hem the answers to how to make more money yet and in the afternoon program. They were asked to dig up your digital identity. And o boy he became so scared of all his details would be revealed…
(sorry for any spelling mistakes)

//
Making coffee is easy for me — i`m italian — and that`s how my day starts. i read the newspaper, because i wanna know what`s going on in the world. I`m a critical person, thinking and writing a lot about gender, labour and technology.  At the moment i`m pursuing my MFA at the Sandberg Instituut in Amsterdam, collaborating with a few different people. Besides using my graphic skills to express my view of the world i`m also using my body to explore myself in the field of critical thinking.  after a hard day working and studying at Sandberg I do my own music. it`s an experimental mix between rock, hiphop, ragga and electronic music.
in 2008 i organized an openairfestival in verona. I travelled to Paris and Luxembourg and while listening to my favorite music — Death Cab for cutie. I carried always my Canon with me and refused to use the flash.

//
Although it's afternoon it doesn't hurt listening to the Monday Morning Mix Session's one more time. The mix of ambient and relaxed classical music really blend well together. 
14.34 already! Time to get some work done.
If only that stupid washing-machine was finished already. Well never a dull moment with a phone in the hand. Hmm, still only 265 followers on my Instagram. Why people don't appreciate my pictures more? They are not that bad if I may say so. To me the personal exploration is important and I try to avoid the fast-paced visual inputs myself.  I wonder if people read this in my pictures? Maybe they are just like me and take things a little slower. If only that machine would speed up!
Hey, that looks nice! My face in the reflection of the machine: I'm standing still while everything else is moving. 'Click' that turned out quite nice, maybe if I make tree of them it will increase the artistic value.  This must be the one that boosts my followers for sure and if not, at least I had fun doing it!
Maybe there is a nice video project in this. Never forget your first love, they say... After all I worked hard to get this far so I'd better stay on my toes and get things done. Well maybe there are more important things to address than just cats and washing machines, art is there for a reason and as an artist I must not forget this.  See you all when you all see my next piece!


With Love, 


(…..)

//
The person in question was assigned female at birth. She is good at coding (Python, etc.) and is a feminist (but not too rad). She went to Leiden University and is now officially a researcher/analyst.  She obtained a BA in cultural anthropology (specialization: cyber and web anthropology and media anthropology).  Perhaps after that (and before moving to Appalachia) she had a brief episode in California (its not very likely but also cannot be ruled out entirely).
Currently, she makes her living by working in a 3D printing lab. Before she worked in a juice bar where she obtained a 'Master Blender' title for exceptional smoothies. 
She is very active and takes part in lots of different projects that have to do with tech, design, and human rights. She believes good design can make the world a better place.  She tries to get a grip of the environment. 

//
K wakes on a sunny morning, not far from what was once a lima bean ranch. In this city goats are hired in the springtime to manicure lawns, shrubs, and do yard work, in a museum that sits atop a windy hill by the sea. K rises early. She makes an espresso and a smoothie of ripe mangoes, blueberries, banana, chia seeds, and yogurt. She takes her breakfast in the car, and travels along the 210E to get to her office. She spends the car ride talking on the phone to Rila. A smashed silver Lexus 450H slows traffic. After 72 minutes she tunes into KVCR and turns onto Northpark Blvd West before parking in her staff spot. At 8:03 she turns the key to VA 203, her office. She spends a couple hours sending emails. It is the end of term so she doesn't have much to prepare for today. Her sophomore students are presenting their final projects to the class for feedback. In class at 11:04 am Lapsee Larker projects images of her magazine ad, billboard, and website for a portable spoon, for her 'Travelware' campaign. Next Micros van Sitar presents a billboard with bright colors for his 'breath assure' campaign, promoting a round metal product, a meter that registers bad breath. One ad has a woman with a lobster on her head and a mermaid body. The student explains that because seafood smells bad, he targets men and women in this ad. He shows another image of a large onion head, that reads "do you know what's on your breath?". K considers how this could be worded differently. In the afternoon she goes to the photo lab to make twenty 24 x 36" photo prints for a client before a 2-hour board meeting.  
//
Her phone got stolen last night.
Do not contact her.
Ctrl-Z. Ctrl-Z.
Read about me, not me, not me, she is vulnerable with such an intimate part of her life lost. Simply blocked and wiped from afar, but the lack of it's physical presence is unsettling. It's ok, she was about to run away anyway. 
Every key has it's base. 
It's easier to close the curtains when you know they're there.
There is still green in Nelson Mandelapark. Under the beach, the Shells. Keep them away from TU/e. Under the pavement, the internet. Aim at fascists for best effect. >:) She puts a hole in her nose because life is painful. She ladders her tights, and continues - what a competent rebel!
Life is hilarious.  You ask the kettle for the wifi, but too many cookies still burst your dress. Hack the rubbish, we can make a smile.
Life is painful. Black death. Drumpf in control of the red button. Nsa.wtf. Be loud and get so upset that you tire yourself out.
Is this the flash back to before the apocalypse? On the plus side, the people at Paradiso found her phone.
                                       //
Well travelled! A Brazilian/Latin/Italian origin name, with a german email address? 

quirky traditional branding background, packaging concepts, pop up restaurants and street food.  Or maybe there is no street food, and you're not living in Florence, then it would make more sense for you to be enjoying the summer sun somewhere outdoors maybe at the beach with your dogs in Bergamot!  Nice of you to help Paul out with his website, did you ever visit in Switzerland?  What happened to K3? Have they settled into their new building yet. 


7 or 87? If its 87 then Portofino looks beautiful and bet you'll find some rare pokemon there too!  Though hopefully it isn't sunny all the time so you won't feel guilty for spending your time inside playing LOL and binge watching The Voice.                                   //
                  Twinkle twinkle little star, why do you twinkle the way you do? It's the question that I always think. I love black. 
Black coffee, black cat, black socks, black nail colour to match the black pants, black smile let me pretty fit in the black Friday. Twinkle twinkle little star, imaging the shape of my soul far away the earth as my daily practice. I am the black hole which still exists in the universe, nothing could twinkle in my arm, nothing could compare with myself, the only way that I shine is my power and I will twinkle my darkness for more than thousands years.   The Killers, they always wearing total black all the time. When I was 16, I got a a pair of knee high socks from my boyfriend as a birthday present. Adolescent poetry may not alway with pink plot, but could like black fish net stockings imagination, taste as salty as the beach of spring . At least lads may think that is the green melody. Girls love being tied up, it gives them the chance to be the helpless victim. 

//
  He flushed the toilet and closed the lid. Santa Claus stared up at him, a badly illustrated likeness, he thought. The Santa Claus toilet seat cover, and the floor matt that accompanied it - Santa's red an white coat - both made of cheap felt, both installed by Mum, were just one of the hazards of coming home for the holidays. Time to get out of the house, he thought, take a walk, find something to eat.  Closing the front door behind him, he blinks a few times, frowning, adjusting his eyes to the light. Not that it was bright outside, or sunny. Quite the opposite. But if you spent the morning staring at the 8-bit reality of Hyper Light Drifter, the real world - whatever that was these days - is bound to take some getting used to.   He takes out his phone to see if Barry is around to join him for lunch. Then, for the hell of it, he opens Pokemon Go and heads in the direction of TexasSteakout. No Pokemon's to be found. He walks down the street, locks his phone, and wonders what had happened to the web that he once knew and loved.  At least he had the christmas presents are covered - avocados with unique, green vinyl cut illustrations plastered on their skin, one for each member of the family. Just for a laugh - a novelty from Windmill-land, where anything could be laser cut and stuck onto anything else.  He unlocks his phone again to check the holiday to-do list. Top of the list, finish coding the new website. Make a new contribution to GitHub. And then the usual: Twitter, Tumblr, Dribble and CargoCollective, although he should consider getting rid of CargoCollective once the new site is up. Indeed, what had happened to the internet he once loved.
    The brain needs more downtime. More books perhaps. Not that books were much better. Now, about a quarter way through, he regretted choosing 'The Martian' by Andy Weir as his holiday read. I mean, who could take Mark Watney seriously: "Yay oxygen!", "Lol gay probe lol!!!!!!", "Bad rover, no Scooby snack!!!!", "LOL craaaaaaap!! 
- not funny, just embarrassing.  He rounds the corner, now just a block away from TexasSteakout and checks Pokemon Go again. There is a wild Pokemon up ahead. Not far from the restaurant it seems, according to the GPS. He follows the map to the creatures location, takes aim and throws a Poke Ball. Done, too easy - candy in the bank. He lowers the phone and looks up at the building in front of him - the real one. Hanging over what used to be the front door to TexasSteakout is a white vinyl banner printed with black sans serif letters: "Typical restaurant coming soon" it reads.  In the shift of perception from the augmented reality of Pokemon Go, to reality proper, he experiences a moment of vertigo. It is not an unpleasant feeling. To float away, into space, like Mark Watney heading for Mars. The further away you get, the longer it takes for the radio waves to reach you. Soon there is no broadcast that can reach you, just a pure, absolute silence.


Day 2 - Intimacy Biometrics
Started off with an introductory presentation about the history of body measurement and biometrics through the fields of architecture, law enforcement and workplace efficiency the new paradigm of DNA based facial prediction was explained, being pioneered by companies like Google and explained the connection between that emerging process and the human need throughout history to translate and capture the body in numbers.


The participants were equipped with a map of the same points on the face that Google uses to train their biometric prediction algorithms and a map of Henry Dreyfuss' Humanscale measurements. Using one sheet of 1m by 2m paper, the participants were asked in groups of three to map each other onto the paper according to the points on the provided maps. Tthe participants all used the tip of their nose as communal starting point of their measurements.


The performance of mapping their own and each other's biometric data was intimate, at times awkward and often funny. Participants covered themselves with spot stickers and variously stood or lay down against the paper using string and measuring tape to capture the dimensions. The performance resulted in communal data self portraits at life-size scale, with the differences between participants body shapes and size revealed on the page.


Through the performance, participants were able to experience how machine vision 'sees' their body, revealing the intimate methods of this 3rd party gaze that is often present yet unnoticed.


Some of the participants remarks on the process have been revealing, many described it as tedious, laborious and awkward. They were surprised to see their body as flat 2d, at first not recognizing themselves "Is my hand really that long? This can't be true." As a result some of the participants came up with their own strategies to map each other. One group decided to only map themselves, they did admit to depending on each others help for certain measurements however. Another group decided to project photos of each other onto the paper and trace from the projected image while yet another group carefully named each dot on the paper with the corresponding body part.


Ultimately the participants appreciated having manually carried out the easily computerized process, inverting their own gaze of themselves and asking them to spend a prolonged timeframe minutely studying themselves and each other.

Day 3 - Messy Bodies
The final day built upon the experiences of the previous two days exploring how we, both body and personality, are translated into numbers, data points and information online as well as by a third gaze, computational or human. Having seen how their bodies and personalities were seen and witnessed by machines and others online, the participants now had the chance to author their own story in a new way.
The participants made a 3d scan of each other using Autodesk's 123d catch software. These body scans were uploaded into a communal 'Internet Bodies' database. The participants downloaded their body scan and that of others to create a new body. Some participants grouped together to build a communal identity, some made bodies for another participant, all through bringing together body parts and scans from across the group. One group in particular decided to use the Intimate Biometric exercise from the previous day to construct this new entity. They connected the various measurement dots and subsequently extruded the the mesh it created.
Compared to the previous two days, day 3 was the only one dependent on the use of technology. Some participants struggled with internet speed to upload and download their scans. We asked them to consider visual tools and processes outside of the open source 3d software we supplied to build their new avatars and explicitly invited them to introduce their own visual practices. Curiously, most of them chose to try and experiment with 3d software despite not having prior experience. This software experience limitation, as well as the internet speed, moved the focus away from creating their new bodies and towards solving technological issues. This was an interesting evolution from day 2, within which most of them created new strategies to solve the task. Faced with technological obstacles of day 3, this flexibility seemed lost. In itself, this behaviour change when faced with computational rather than analogue tools was interesting and informed our final group discussion.
We ended the day talking about expectations bestowed upon and dependencies created by technologies. Most of the participants realized that their first instinct in dealing with their own 3d scan was to 'clean' it up and make it more 'real'. This realisation linked, quite elegantly, to the work of the previous two days and the experimentation with constructed gazes.

Self-portrait by Julia Zabowska

Portrait by Oliver Barstow, Lucas van Eck, Marta Revuelta

Portrait by Emily Fay Buzzo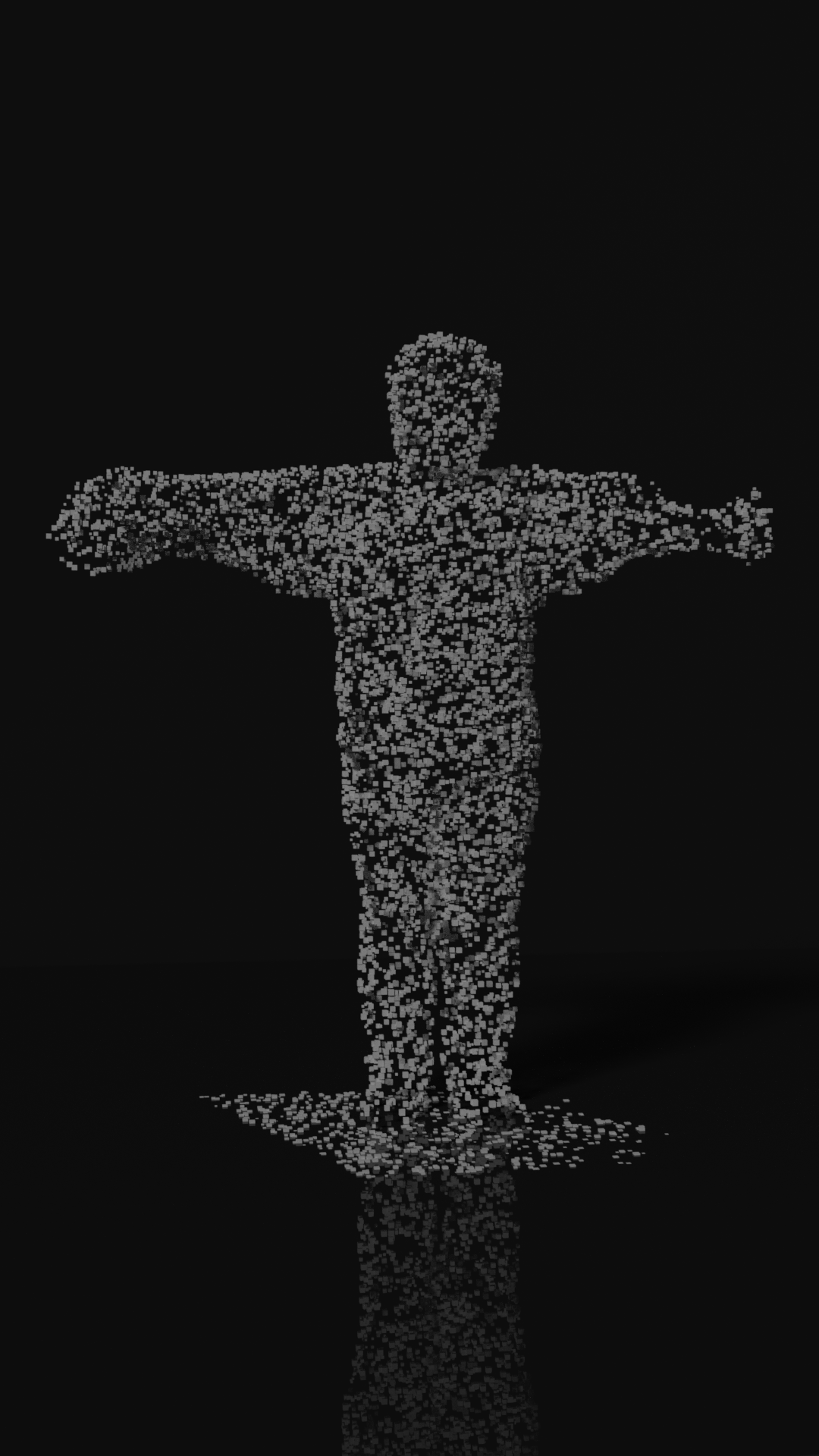 Portrait by Christopher MacInnes

Notes and references from the workshop here:
<eplite src="http://etherpad.hackersanddesigners.nl/p/" id="internetofbodies" height="1000px" width="1000px" />