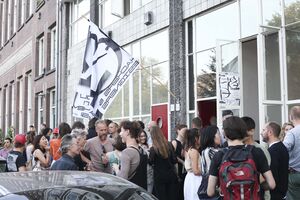 Our use and understanding of notions such as truth and reality in recent years have been heavily challenged. "White Lies", "Fake News" and "Alternative Facts" are catch phrases The notion of truth needs to be reconsidered within journalism, digital humanities, computer science, engineering, art and design practices. What are the tools and technologies capable of, that we are building, using and updating, and therefore constantly reaffirming? Do we really know? Do we need to know? The 4th edition of the H&D Summer Academy (HDSA2018) was given the title: Fake it! Fake them! Fake you! Fake us!... H&D and calls for taking truth into own hands.
Hackers & Designers kicked off the Summer Academy workshop program by inviting hackers/designers/makers/artists to come together to establish a critical perspective on truth as such, and to work with multiple truths.

Invited speakers were:
Anastasia Kubrak – RU/NL, designer & researcher (User-Agent)
Anastasia Kubrak (ænəsteʒə kubrak; born 10 January, 1993) is a designer and researcher based in Rotterdam. In her work she focuses on social and political implications of emerging technologies, surveillance economies and algorithmic governance in urban space. Her projects have been exhibited by Van Abbemuseum, Baltan Laboratories, WORM, Chaumont Biennale de Design Graphique, and her writing has been published by The Institute of Network Cultures, Nichons-nous dans l'Internet and Design Academy Eindhoven #TVClerici Reader.

Lucas LaRochelle – CA, designer (Queering the Map)
Lucas LaRochelle is a multidisciplinary designer, artist, and researcher using their work as a tool to both critique contemporary culture and explore tangible alternatives. Their work uses digital media, graphic design, clothing and wearable technology as a means of examining and manipulating the interactions between the (queer) body, technology and the built environment. They received a certificate in Co-Design from the Utrecht University of Applied Sciences in 2016, and are currently completing their BFA in Design and Computation Arts at Concordia University. Their project, Queering The Map, received an Honorary Mention for the 2018 Prix Ars Electronica, and has been featured on CityLab, Broadly, AIGA Eye On Design, I-D, Paper, INTO, Yorokobu, Numerama, and Project Myopia amongst others. Their work and writing has been published in Échelles, Perfect Strangers and Accent.

Lyudmila Savchuk – RU, activist & journalist
Lyudmila Savchuk investigated a 'troll factory' in Russia undercover for two months, where she saw "the groundwork of the Kremlin propaganda machine with [her] own eyes". She saw "how the trolls actually work". Savchuk is an expert and frequent speaker on Russian disinformation. She is behind a research project on the political coverage in Russian media and is writing a book on the role of Russian propaganda during the American elections.

Louis Center – AU, (Peer-to-Peer Web Berlin)
Louis Center is a developer investigating the possibilities of p2p web browsers, and how artists can use them to extend their own creative practices and solidify the DIY/independent frameworks they operate within.
Moderated by Klaas Kuitenbrouwer and joined by Metahaven for a conversation with Lyudmila Savchuk.
Free to all :)
fanfare Da Costakade 154, 1053 XC Amsterdam, The Netherlands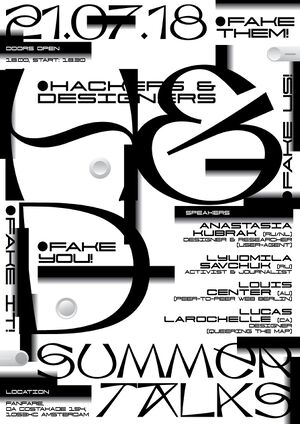 This event is made possible by the kind support of Stimuleringsfonds Creatieve Industrie