H&D Summer Talks - part 3 - Club Fantasy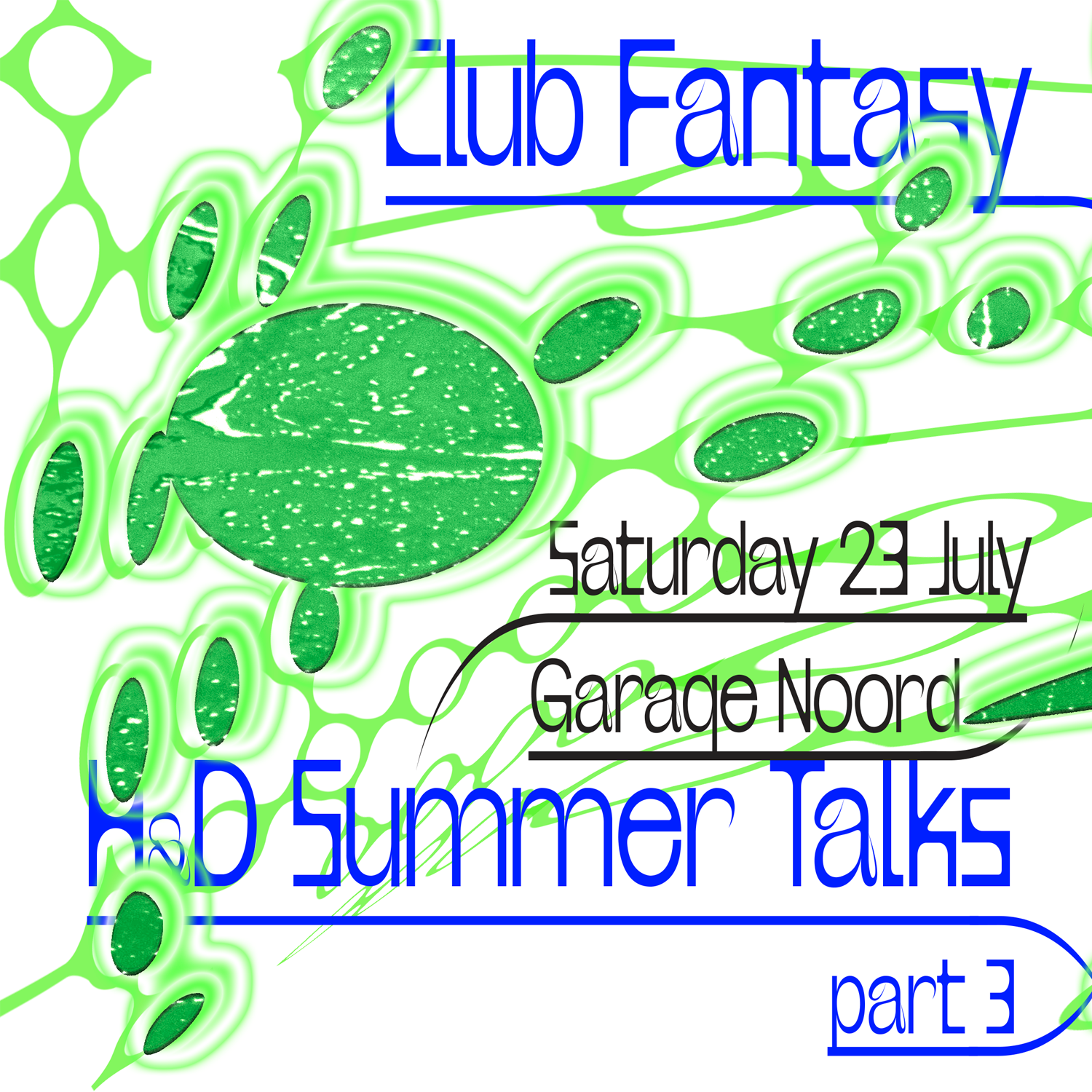 The last event of our Summer program with talks, performances and a closing party took place at Garage Noord!
To close this week H&D brought together a guild of fantastic beings to explore collectively the powers of world-building, characters and avatars, fantasy worlds, role play and games to make kin, build communities and imagine futures. The talks and hybrid performances were followed by a club night with local djs to close the week on the dancefloor!
The photos that night were taken by Emilia Martin for Radio Echo
Program
The talks and hybrid performances were live broadcasted by Radio Echo. Unfortunately some technical difficulties happening that night left us with low quality recordings, and we can't share the entirety of the program.
Intro by Juliette from H&D
Collective Worldling & Remote Embodiment, a talk by Carina Erdmann
Avatars & Fantasies, a Lecture-peformance by The Queer Arcana
Tales of Blood, performance by SasaHara x jujulove
THE CODEX ECONOMYSTICUS, a peformance by ¥€$Si PERSE

Club Night
with LARASATI, Noise Diva, dj BEBÉ, jujulove b2b dan1dang3r

About the contributors
The Queer Arcana is a theatre/game collective that organises theatre shows in which a group of drag performers play Dungeons and Dragons on a live theatre stage. Queer Arcana tries to enhance the visibility of queer gamers and investigates what happens when you overlap different subcultures in art and design. The members are working towards setting up a large digital and analogue gaming community where gaming is used as a tool for strengthening social cohesion, and as a way to explore the self regarding gender identity, humanity, and position in life. The lecture-performance will address the evolution of non-binary drag and how it has influenced the queer community's discussions of gender identity.

¥€$Si PERSE are multidimensional artists and Quantum DJs based in Barcelona, Spain. IP:62.174.182.94. YESSi PERSE is a hyperstitional interface that allows their wearers to enter into alternative narratives. A Fiction Suit. This parapersona is a continuous-under-construction Avatar, an otherkin/cyborg creature incarnating the idea that concepts such as Body, Identity and Humankind belong to the Fantasy Realm too and, therefore, they use the creation of AFK (Away From Keyboard) virtual personae as a mean of redefining and expanding the inner and external expressions/ notions of the self. Manifesting, formally and performatively, in an RPG (Role Play Game) character -a radical mutant xenofaery- lost in the NeuroDungeon of an Economystical Cybermedieval system.
YESSi use the political strategies of science fiction and urban fantasy to raise questions about identity, economics and future ecologies focusing on how to overcome the idea of human and the anthropocene/capitalocene through posthuman and xenofeminist technologies to mutate the collective mind and queerize the planet.
The current work of YESSi revolves around the mutation of institutional artistic performance with memetic variations that come from popular performative formalizations such as party contexts (using the DJ Set as format), Cosplay/LARP (Live action role-playing game), Online Communities and Virtual Worlds. Founders in 2020 of the artistic collective and music label "NeuroDungeon" together with artists Kaverna and Bartolomé, whose first actions have been the -3D avatar based- virtual raves "NeuroXcape" (Club Cooee) and "Nu:cenosis" (IMVU).
The CODEX ECONOMYSTICUS is an AV / Spoken Word DJ Set - New Ache Mix - where they adopt the roles of "Ethereum" and "CryptoBro", some npcs (non-playable characters) that provide information about the lore of the Economystic System we live in and the legend of "The Cyber Quest for the Holy NFT". The CODEX ECONOMYSTICUS is a NFHT, a Non Fungible Holy Token. A crypto-relic lost in the Blockchain Rhizome. A grimoire of arcane knowledge and ritual technomancy, whose reading provokes deadly speculation. A mysterious digital object that is the source of supreme economystical experience and that allows contact with supernatural entities of immense power, the Cryptocurrencies. The codex' s code is mined in all of our cerebral cortexes. The (l)ink that flows in their pages is our data. Our datasoul is not ours, it belongs to the codex.

Carina Erdmann is based in Berlin and Brussels. She works as a multimedia artist, researcher, and mentor in Game Design at LUCA School of Arts. Her collaborative and interactive practice engages participants and players in embodied explorations of parallel perspectives, speculative futures, pasts, and the negotiation of different agencies. In the Ph.D. research "DISTANT BODIES AND ACCOMPLICES – Rethinking the interaction between player and avatar through remote LARPing ' she investigates the hybridization of live performance and online gaming. She is co-founder of 0ct0p0s.net, a research platform for performance and pervasive play, producing and presenting non-linear narration, role play, and collective worlding as a tool for critical thought.

SasaHara (1993 - French-Algerian - They/Them) is a creative born in Paris and based in Amsterdam since 2017. They work as a drag transformer and a writer, playing with drag aesthetics in different formats (editorial, club, theater) to create queerophantasmic narratives. They find inspiration in ancient mythologies and transforms them in order to allow queer narratives to be a part of it, through fantasy writing or queer re-write of existing myth. Drawing on the nurtured imagination of their editorial story-telling creations, tapping into the sense of community inherited from their belonging in the nightlife and drag-family, and tinkering these elements together through their managerial skillset, SasaHara creates, supports, and acts within the queer community and for its non-conforming agents.

jujulove (1991, Fr) a.k.a. Juliette Lizotte, is a multidisciplinary artist working with video, design, music, larp and performance. Inspired by feminist science fiction, manga, pop culture and fantasy, her recent research focuses on witches as ecofeminist key figures. Learning from the subversive character of the witch: marginal, powerful and disruptive, with an unsettling relation to nature, jujulove invokes the powers of witches, their spell casting and their engagement with unconventional instinctive and intergenerational knowledges to empower bodies and minds. She is an active member of Hackers & Designers and a DJ!
« Tales of Blood » is a collaboration of jujulove and SasaHara with Basse Stittgen. The idea of this myth storytelling performance came from the mirror Basse designed with industrial waste animal blood: the blood mirror. This mirror is a part of "Blood related", a project initiated by Basse Stittgen in 2017.
"There are countless notions and associations connected to blood, the most substantial being life and death, blood can symbolize both and worlds in between. It tells a thousand stories, steeped in meaning and mysticism. Yet, the very real narrative of cowblood as a by-product and waste stream remains untold. The slaughterhouse industry is one of the most resource intensive in the world, yet it remains almost invisible - this disconnection makes it difficult to create a common ground to talk about the ethics of production and consumption. The work offers a platform for confrontation and reflection regarding our relation towards animals. All the objects are made 100% from discarded cowblood." Basse Stittgen
https://bassestittgen.com/ https://www.instagram.com/bassestittgen/
LARASATI is the DJ alter ego of Rotterdam based designer and artist Insan Larasati (they/she). They have a love for euphoric sounds that exist on the border of sentiment and chaos, meddling in a variety of genres including post-deconstructed club, hardcore, breakbeat, trance and hyperpop. Active both nationally and internationally, they have played at EASEA queer clubnight GGI (The Yard, London), BIT Club, Radio Radio and The Grey Space, while also supporting artists like Smerz at Muziekgebouw Aan 'T IJ and Swan Meat at s105. They have played at radiostations such as NTS, RInseFM and Ma3azef Radio. Listen to LARASATI

Noise Diva is a noise explorer and sonic chaos curator, DJ and artist based in Amsterdam! Listen to Noise Diva!

DJ BEBÉ is your average music selector. Born in Bogotá, Colombia always had access to multiple tropical rhythms from the hot lands . She is fascinated with the dance floor fenomena in her conservative country, this space is where people let themselves go and build the revolution. She carries always all of this sounds and her poor mixing abilities to bring the tropical revolution everywhere. Listen to DJ Bebé!

dan1dang3r is a musician and DJ based in Amsterdam. Listen to dan1dang3r!
Access Notes
The event was held in English.
Garage Noord is not wheelchair accessible. If you had any access needs that would not be addressed on this page, especially something that might need to be communicated in advance to everyone, for instance with regards to social distancing or other health-related measures, you could let us know via email.
The price of the event was €15 but in case you would like to participate but couldn't pay this amount, you could write us an email.

Graphic Design by Manon Bachelier
This event was made possible with the generous support of Stimuleringsfonds and AFK.