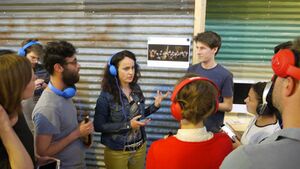 Lava Lab was founded by Lava Design. Lava Design is a design agency from The Netherlands, also based in China. In the past 25 years they have established an international reputation in graphic design, dynamic identities, campaigns, magazines and interactive experiences for both profit and non-profit organisations.
Klasien van de Zandschulp and Mark Meeuwenoord introduced us to HearUsHere, a location based nonlinear storytelling platform and app for iPhone and Android. In groups we composed our own audio experiences based on paintings of the Golden Age.
HearUsHere uses GPS coordinates along with iBeacon/Bluetooth devices to place sounds on a location or object with an adjustable volume radius.