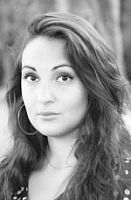 M. Beatrice Fazi's (IT) background is philosophy. She holds a PhD and an MA from the Centre for Cultural Studies, Goldsmiths (University of London), and a Laurea in Philosophy from Università degli Studi di Macerata (Italy).
Her work explores questions located at the intersection of philosophy, science, technology and culture, and her research interests include media philosophy and theory, digital aesthetics, computation and logic, algorithmic reason, contingency and indeterminacy, critical and cultural theory.
Beatrice's research addresses computation as a dynamic and complex mode of ontological and epistemological production. Her primary area of interest is the abstract character of computational systems, and the ways in which the computational method might produce new forms of intelligibility whilst also challenging present and past accounts of sensibility. Her current work investigates the limits and potentialities of formal reasoning in relation to computation, and aims to offer a re-conceptualisation of contingency within formal axiomatic systems vis-à-vis technoscientific notions of incompleteness and incomputability. This research is part of a monograph that she is currently writing on how indeterminacy shapes the ontological foundation of computational aesthetics. Beatrice has previously taught at Goldsmiths, Anglia Ruskin University and London South Bank University.
Activities