Open Call for Participation! HDSA2022 Connecting Otherwise
Jump to navigation
Jump to search
>>> Deadline for participation sign up: 2 June 2022 <<<
Join us for the distributed H&D Summer Academy – taking place 16-23 June 2022 in 4 different interconnected locations: Amsterdam, The Netherlands / Aotearoa (formerly known as New Zealand) / Berlin, Germany (+ online) / Seoul, South-Korea
As participant of the HDSA2022 you will be able to join one of the locations (nodes). All nodes will facilitate – in their own ways – the same workshop program. There will be moments in which all nodes will connect and there will be times where we follow workshops asynchronously. This edition is an experiment in decentralized organization and strives to connect the different nodes, while attuning to and leveraging the different local contexts.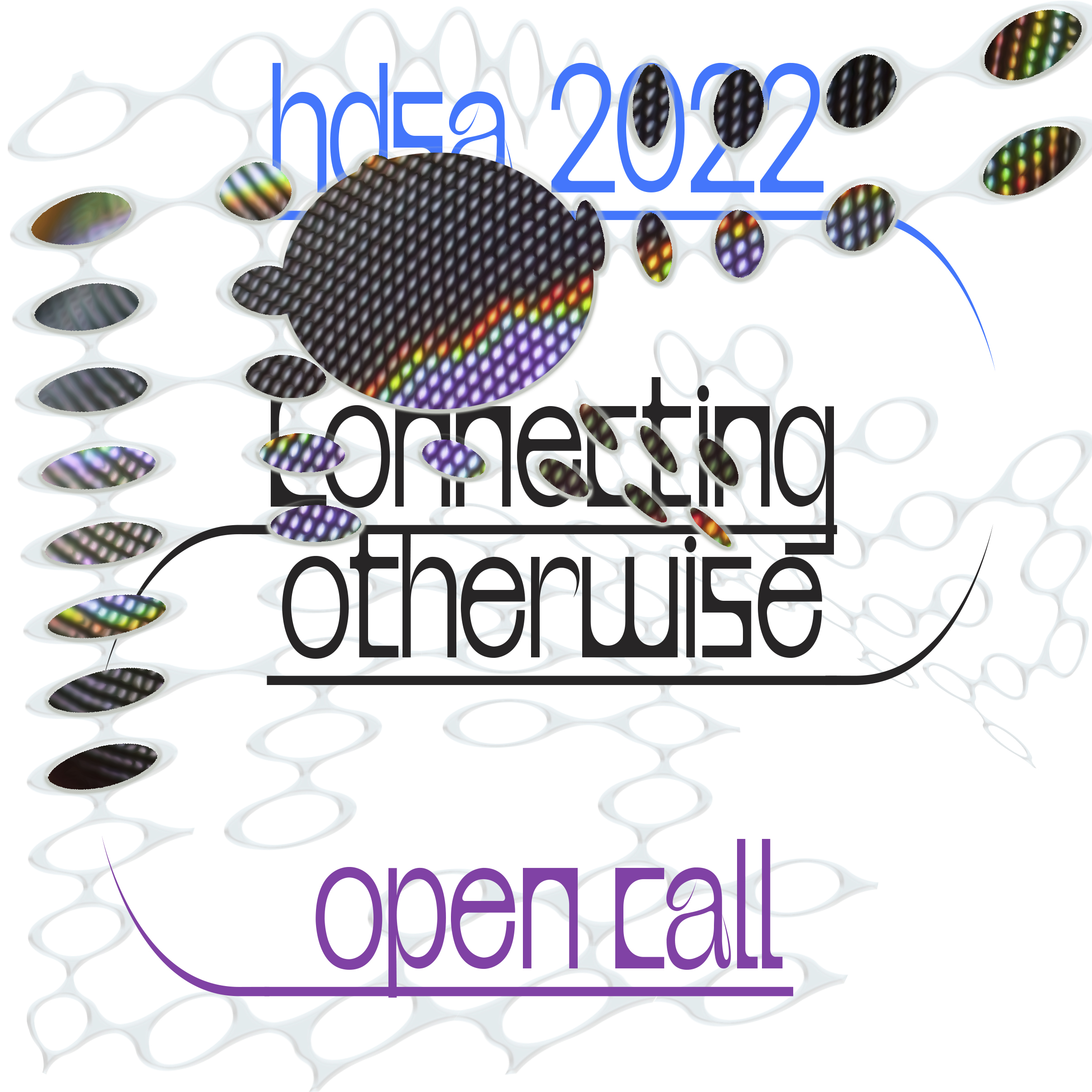 Theme: Connecting Otherwise
Living in a global pandemic for the last two years made apparent how our internet use impacts our co-habitation with each other – other humans, other species – in social, material and psychological ways. The evolving monoculture of the handful of companies that mediate our online connectivity, as well as their pervasiveness and extractivist nature, has created a condition in which it is difficult to imagine alternative, affective, and sustainable ways of coexisting and connecting online.
Within the theme of 'Connecting Otherwise': we will explore the intersections of accessibility and sustainability of hybrid cultural work and techno-social life—the cultural, economical, ecological, and geographical implications of our increasingly complex entanglements with technology.
This year's summer academy will be facilitated and co-constructed with collectives that work in their respective local environments at the intersection of art, design and technology, environmental, queer, trans* and disability justice, free/libre/open source software development, and radical pedagogies. Together, we invite participants to join us in questioning, reimagining and putting into practice other conscious, creative, and response-able ways of working, creating, and co-existing online.
How does the distributed HDSA work?
By organizing the program in a distributed format, members of different communities are invited to engage with each other's collective practices through making things together and co-organizing workshops and experiments.
The 1-week workshop program (HDSA) will take place in different locations (nodes): Amsterdam, Aotearoa, Berlin/Online, and Seoul.
Each node has capacity to facilitate a group of 10-15 participants.
Each node will take care of a safe learning environment that is considerate of the current COVID restrictions in their respective locations.
During the HDSA, there will be moments you will be working with your node and other moments where all nodes connect, exchange and synchronize.
The HDSA workshop program is comprised of 4 'workshop scripts' – workshops prepared by the different HDSA nodes. You will be able to follow all workshops in the different locations synchronously and asynchronously.
All workshops are considerate of different levels of knowledge, backgrounds, and access needs. Additional support will be provided by the respective nodes.
All workshop materials will be provided in English, but on-location activities may be facilitated in local languages that best suit the group.
Meet the nodes
Amsterdam: Hackers & Designers + Hackitects collective
Hackers & Designers is a non-profit workshop initiative organizing activities at the intersection of technology, design, art and education. By creating shared moments of hands-on learning H&D stimulates collaboration across disciplines and technological literacy. H&D organizes activities from the idea of a flattened hierarchy. 'Teachers' become participants, participants become workshop leaders – everyone is taken on a collective venture of shared response-ability – bringing in own expertise, urgencies and experiences. More about H&D: https://hackersanddesigners.nl/
Node-specific information:
We will be hosting the H&D Summer Academy in person in different locations across Amsterdam, with one main base for the workshop days.
We expect committed participation and attendence during the week from 10-17.00 CEST.
There will be also a public program that takes place in the evenings on 3 days during the week. (live/radio-streamed?)
Participation is free of charge and donations are welcome.
Additional material costs, daily lunches are self-organized by participants.
The spaces that will host us will be wheelchair accessible. Please let us know in the form if you have any access needs that we should take into consideration.
Aotearoa: Place for Local Making + Negative Emissions and Waste Studies Programme (NEWS)
A Place for Local Making is a shared space for inspiring imaginative and caring ways of making and living together in our multispecies entanglement. Through making and thinking with materials at hand, and tuning into the more-than-human companions around us, we wish to grow new stories and ideas about how we could better relate with our material and ecological surroundings. Small, slow and simple is beautiful. We host, co-produce, support and welcome ideas from others.
The Negative Emissions and Waste Studies (NEWS) Programme is a free self-learning environment that runs on streets, parks, private homes, community centres, public art galleries, department stores, public schools, in the sea, and anywhere else. It uses only things that have been thrown away or can be found for free. We then play and experiment with them to make fun, pleasurable and (sometimes) useful objects, services, activities, etc., in domains including but not limited to electronics, sewing, ceramics, sound/music, micromobility, gaming, landscaping, food/drink, poetry, and love.
Seoul: Dot Dot Dot User Group
'Dot Dot Dot' can mean a variety of things: dot to dots, constellations, forest, the fediverse, electronic circuits, soundscapes and ellipsis. An ellipsis is a 'blank' that someone has to fill in, a 'silence' that is a time when people stay calm and listen, and an 'indescribable' meaning that it cannot be described in words. We believe that (non-verbal/non-human/the fediverse/queer) possibilities will be discovered through efforts to drift apart from the centrality of (verbal/human/the Internet/gender binary). The 'Dot Dot Dot User Group' is a group that plans, shares, and carries out personal/community-wise efforts that gradually relocate the foundation of our lives and existence onto decentralized/self-sustaining connections. https://dddug.in/
Node specific information:
We will be hosting the H&D Summer Academy in person in Seoul.
We expect committed participation and attendence during the week from 11.00 - 18.00 KST, which is including 1 hour lunchbreak. (Daily lunches are to be self-organized by the participants.)
We communicate in Korean for local events. Events linking to other nodes synchronously may not be possible in Korean. For conversations with other nodes, participants can choose Korean and/or English and we recommend the use of automatic translator apps. Simultaneous interpretation is not available.
Workshop scripts will be pre-translated in Korean.
If there are extra workshop materials given in advance, we might be able to translate them in Korean.
The space is on the second floor in the building without an elevator, and it is difficult for wheelchair users to access.
Live transcription of Korean speeches is possible. Please let us know if you need it.
The fee for in person participation (for the week) is 30000 KRW. However, the participants can also name the price according to their will. Free participation is also valid. Donations are welcome.
Berlin (and online): MELT
MELT (Ren Loren Britton & Isabel Paehr) study and experiment with shape-shifting processes as they meet technologies, sensory media and pedagogies in a warming world. Meltionary (derived from "dictionary"), is a growing collection of arts-design-research engagements that cooks up questions around material transformations alongside impulses from trans* feminism and Disability Justice. Melting as a kaleidoscope like phenomena touches upon multiple topics at once: climate change, the potential for political reformulations, change over time and material transformation. Our node is hosted at Commo: http://commo-berlin.de. Commo is a space is run by queer, trans* and autistic people and can comfortably host a group of up to 15 people. We joyfully invite trans* and disabled people to participate – in-person and online participation are possible.
Our nodes' motivation is to research, share and activate otherwise modes of connecting built on knowledges already present. Crip knowledges of how to stay connected while centering care became needed by non disabled audiences in 2020. While some forms of access were granted as nondisableds needed them (such as working from home), others remain unimaginable. Within these contradictions, what then are anti-assimilationist, accessible and trans* approaches to connecting otherwise? How can we move towards a point where we can choose our technological dependencies (because non extractive accessible tools exist) - intervene into existing systems - and build otherwise technologies of intersectional disability access? Our ethos of facilitating this Summer Academy begins from centering collective accessibility -- we work with collective conditions that help to establish ways of being together that center care in our node. Breaks, questions, non technical expertise and dancing will be celebrated.
More on our work: http://meltionary.com/
More on the physical space our node is hosted in: http://commo-berlin.de.
Node specific information:
We will be hosting the H&D Summer Academy in person and online in Berlin, with potential occasional excursions into the city.
We meet from Saturday and Wednesday (16.07.22 - 20.07.22) from 10:00 - 16.30CET (including a 1 hour lunchbreak).
The fee for in person participation (for the week) is 75€ which includes a daily catered lunch (salads, soups, sandwiches), materials and supplies.
The fee for online participation (for the week) is 20€ which allows us to ship you a package of materials and supplies ahead of time.
No participant will be rejected due to lack of funds, please let us know and we will fund your participation.
Accessibility: Our space is wheelchair accessible via a mobile ramp, we are securing an accessibile toilet (next door) presently. Our video conferencing system has automatic captions. Occasional translations into German or into ASL (American Sign Language) are possible. Please come scent-free or low-scent, and rapid-tested for covid. For more accessibility info on our space please read: http://commo-berlin.de.
Please let us know in the form if you have any access needs, we will joyfully work to care for them.
Due to limited spaces in our node we will privilege trans* and disabled people joining our node, in the form please write "Privilege Me" if that's you and we will prioritize your application.
How to participate?
Please fill in this form to sign up. There is a limited amount of spaces for participation available per node. If we get more submissions than spaces available we might need to make a selection. Please submit your form by June 2 latest. You will receive a confirmation of reception on June 3. And the final outcome on June 10. Write an email to juliette@hackersanddesigners.nl if you need some extra time.