Open Call! H&D Summer Camp 2023 - HopePunk: Reknitting Collective Infrastructures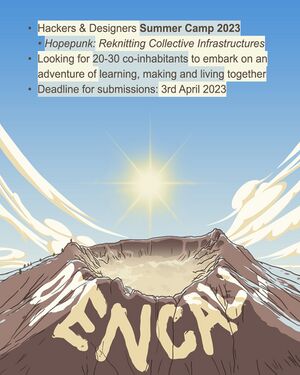 HDSC2023: Hopepunk: Reknitting Collective Infrastructures
Dates: 17 – 28 July 2023
Location: Het Wilde Weg, Sint-Oedenrode, The Netherlands
APPLY HERE! --> Deadline for submissions: 3rd April 2023
Hackers & Designers Summer Camp!
This summer H&D are going to inhabit a remote location in the south of the Netherlands and are looking for 20-30 co-inhabitants for our temporary H&D village!
Together we will embark on the adventure of learning, making and living together. With this format we aim for a holistic and intersectional way of thinking about and practicing sustainability (socially, ecologically, economically, culturally) and reknit arbitrary boundaries between work, play, leisure, maintenance and care.
H&D is now open for proposals for a variety of activities that contribute to an overall exhilarating communal experience! More specifically we are looking for hands-on workshops that explore alternative (sustainable, non-extractivist, equitable) technical and social imaginaries. Next to workshop proposals additional activities are welcome such as lectures, film and dance nights, communal dinners, fire place readings, foraging, publishing activities, gymnastics, LARP....
The open call welcomes folks (hackers/designers/makers/artists/developers/activists/inventors/...) of all ages, abilities and backgrounds to propose activities. The BYOW (bring your own workshop) format is an attempt to decentralize curation and organization of the workshop program.
Proposals for hands-on activities should (loosely) relate to the topic of Hopepunk, and can be connected to participants own practice and skills. H&D will take care of the selection process, and invite additional guests whose practice can complement the proposed activities and fits the theme.
Theme: Hopepunk
This years theme and setting of the HDSC responds to the widespread onset feelings of anxiety, uncertainty and dread caused by geo-political tensions, climate crisis and asymmetric distribution of wealth, power, and everyday resources, as accelerated by turbo-capitalist 'innovation' and planetary-scale computation. Supply chains are showing their brokenness. Uncertainty regarding scarcity of resources, energy prices and costs of living are hitting home, literally. The painful awareness of the precarity of our material and immaterial everyday life acts as a constant humming sound.
Surrendering to apocalyptic panic is not an option, as long as the sky hasn't fallen (Haraway, 2016). Until then, we can practice making kin and compost, and rejoice in coming together, knitting and grafting ourselves into new interspecies relations.
With Hopepunk: Reknitting Collective Infrastructures, H&D proposes a critical yet optimistic approach toward desirable techno-social and eco-conscious futures that create connections across differences (age, gender, race, ability, skills, interests, species, materials).
The reference to solarpunk is not accidental. The science fiction literary genre and art movement envisions techno-futures in which humanity succeeds in solving major contemporary problems offering an optimistic outlook paired with hands-on practical approaches. Can oppressive regimes, such as capitalism, authoritarianism, sexism, racism, ableism be undone by solar power? It seems unlikely. Perhaps the core of punk futures lies in the DIY mentality – our capacity for generating pragmatic hopefulness. To find joy in materialization without extraction.
Criteria for selection of proposals
The selection process will be two-fold. We will first review the workshop proposals and then look at requirements regarding accommodation.
There is a limited amount of spaces for participation available that relate to the amount and types of accomodation. The more information you share about your preferences, the easier we can try accomodate your wishes.
If we get more submissions than accommodations available we might need to make a selection.
Please submit your form by April 3 latest.
You will receive a confirmation of reception on April 4.
We will aim for April 12 to announce the final selection.
If you need some extra time or have any questions, please write us info@hackersanddesigners.nl
About the communal campsite
Hackers & Designers has reserved the entirety of Het Wilde Weg, located in Sint-Oedenrode in the Dutch countryside in the middle of the nature reserve Het Groene Woud. In the heart of a luscious ecosystem, we will be able to swim if we get warm, get shade if we need to, get together around the campfire, bbq, jump on the trampoline and watch the stars and the moon with no light pollution! There are communal indoor spaces to host our activities and a projector available for presentations. There is electricity to feed our electronic devices! Two sinks for dishes with hot water, and a communal bathroom with 2 showers. We will share food and self-organize all camp duties altogether as a community. Chickens and cats will be around but other pets have to stay home ;-( There is also a lot of space to withdraw, go on walks and have some private time.
Prices, Accommodation, Food
Participation to the Summer Camp is free of charge but accommodation and food is at your own expenses.
There are various accommodations available with different levels of comfort. In terms of pricing we differentiate between two types of accommodation: Tent (€250pp) / Walls (€500pp). To distribute the accommodations in a manner that suits everyone's preferences and budgets we have added specific questions in the form.
Food will come on top and we estimated around €12/day/person and will be organized on the spot in a decentralized way.
The graphic design for this year's program is made by Sheona Turnbull & Lukas Engelhardt.
HDSC2023 is made possible with the kind support of Stimuleringsfonds.