Figuring Things Out Together — Exploring the 'Workshop' as a concept and format for collective learning and publishing: Difference between revisions
Line 8:
Line 8:

|Print=No

|Print=No

}}

}}

[[File:Figuring-out_Bart.png]]

[[File:Figuring-out_Bart.png]]
---
Revision as of 20:53, 22 May 2022
About
In this installation and workshop series Anja Groten from Hackers & Designers opens up her practice-based research with a special attention to the 'workshop' as a format for self-organized learning and publishing.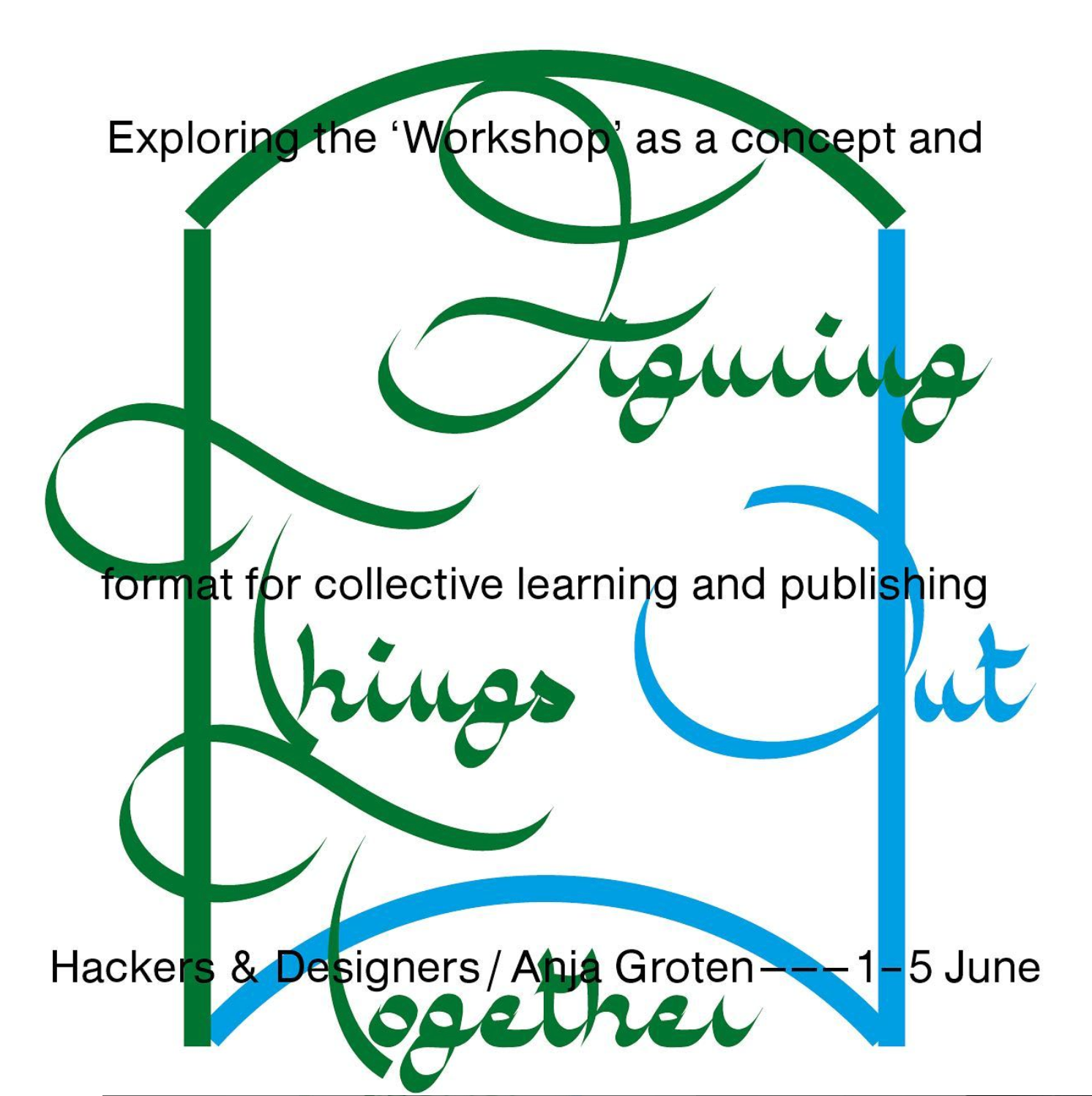 Manifold contexts shape articulations around workshops, different workshop meanings, materializations, practices, and legacies. The 'workshop' – an ambiguous yet popular format for time-boxed collaboration is co-opted frequently, crossing boundaries between art and activism, between different disciplines and institutions, between commercial and educational contexts. As a flexible format, the workshop seems to fulfil momentary needs and supposedly can be adapted to 'any' context, tackling 'any' issue. However, the workshop, in its temporary, semi-committed, ad-hoc utterances, needs to be considered also as a consequence of uncertain times, contingent and fragmented work and social relations.
Drawing from the workshop-based practice of the Hackers & Designers collective this installation and workshop series focuses on the relation of workshops, collective practices and self-publishing, posing the question how collective practices can negotiate their socio-material conditions in critical, creative and conscious ways, and develop subtle but effective tactics to 'stay in touch' with each other and with the different environments they interact with.
The installation (built with the fanfare display system) and workshop series are part of the artistic research project of Anja Groten at PhDArts (Academy for Creative and Performing Arts Leiden) and the Making Matters project. It is the first of a series of activities – a distributed, iterative publishing cycle that will materialize as an on and offline publication.
Workshop program:
Wednesday 1 June, 13.00-18.00 — 'Workshop Chatter' with Chattypub (Walk-in, no RSVP required)
Check out the installation by Hackers & Designers at Page Not Found and stop by for cookies, coffee, tea and a chat about workshops! Share your workshop anecdotes, unexpected insights, mundane observations, awkward interaction, and get introduced to Chattypub – a chat application, a design and publishing tool, a workshop, a collective practice.
Thursday 2 June, 10:00-13:00 — 'Workshop / Werkstatt / Werkplaats: Workshop site and situation' (On-site workshop, RSVP required)
An on-site workshop in collaboration with Fabulous Future (Naomi Credé) and fanfare.
What is physical publishing? How do we imagine a workshop space? How can a display activate space?
With the installation at Page Not Found, you are invited to collectively imagine and construct the modular system as a workshop space. The workshop and structure will be built with the playful modular fanfare display system, which assists in modifying, activating and claiming space. During the workshop, fanfare, Fabulous Future and Hackers & Designers will join forces to challenge/expand/enhance/continue the display system together with the workshop participants.